Farming Over 17,000 Acres of Prime
California San Joaquin Valley Farmland
Stamoules Produce Company INC
is a business that satisfies the need for fresh and quality produce. Stemming from the
cantaloupe
center of the world, customers are assured that they are buying quality
cantaloupes
,
honey dews
,
and
mini watermelons
to gratify their taste buds; and
sweet corn
,
broccoli
and
bell peppers
to complement any recipe.
With the help of many well crafted ideas, use of underground drip tape and a Full Safety Program for the cooling facility, Stamoules Produce Company has been a successfully family operated business in Central California for more than 80 years. Their yearly practice is to exceed customer satisfaction with an increase in production efficiency to rise above competitors year after year by growing, packing and selling fresh and healthy produce for distribution throughout the United States, Canada and Mexico.
The History of Stamoules Produce Company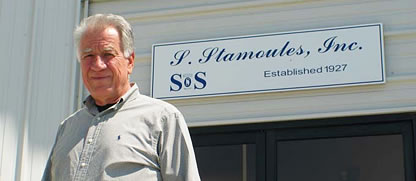 STAMOULES PRODUCE COMPANY
904 S Lyon Ave
Mendota, CA 93640-9736
559.655.4581 Office
559.655.2511 Fax